Careers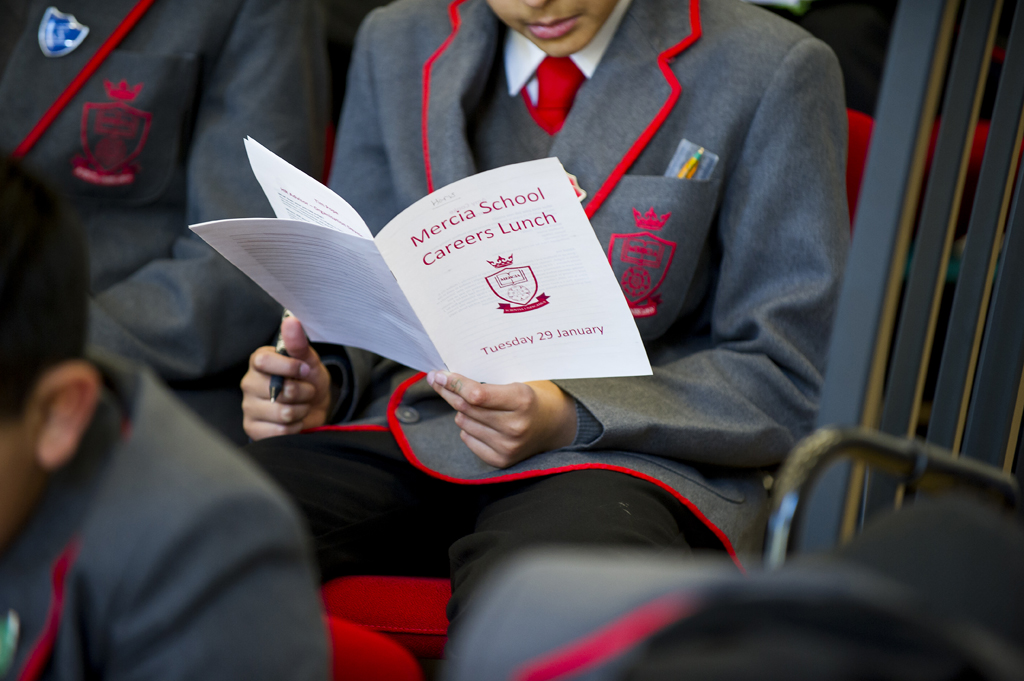 The Mercia Commitment
All teachers are highly committed to ensuring that pupils have access to the highest quality careers education so that they can fulfil their potential. As a school founded on knowledge, we pride ourselves on the knowledge that pupils have about careers and Higher Education. The more knowledge Mercia pupils have, the more empowered they are to make the right choices. Every teacher takes responsibility for inspiring pupils and ensuring they have access to information that will help them make appropriate choices as they progress through school. Given the academic aims of the school, university aspirations are at the heart of our drive and all pupils will complete a Mercia Promise from Year 7, which is a declaration of aspiration to guide them for the years ahead.
Careers Education
Careers Education is delivered mainly through the Mastery Time curriculum. In Mastery Time, we use themes of the week to explore a range of issue that link to cultural capital. As well as a careers week, we also have an aspirations week, university week etc and all the time we are seeking to educate and inform pupils about potential careers open to them. Through family dining, we regularly host visitors informally, who pupils can talk to about their careers and lives and we encourage a holistic approach very much to careers education. In lessons, staff are always promoting their subjects, how to pursue the particular subject and what career paths learning may follow. We also build in explicit one to one time with pupils to harvest their interests and goals and develop their careers knowledge from our enrichment programme, where external visitors lead much of the curriculum, offering unique experiences. Every pupil is entitled to speak to several visitors about their careers every year- this is essential in our drive to raise standards and aspirations. Every pupil is also entitled to our core knowledge curriculum around knowledge of universities and courses also.
Parents are central to this agenda and have awareness of our aspirations for University and support and uphold these aims. Discussions at Parents' Evening are always aspirations related and Parents are informed about our commitment to pupil experience through enrichment electives and curriculum choices.
Mastery Time and Careers in Year 7
Content includes:
Completion of the Mercia Promise
Knowledge of Universities and qualifications- what we mean by A Level/Degree/ BA/Arts/ Sciences etc
Personal survey to reflect on areas of interest
Discussion with Mastery Tutor re hopes and ambitions
Learning about Russell Group Universities
Understanding the inequalities that exist in Higher Education and the support available
Impact project involvement with Sheffield University
Inspirational speakers- careers focused
Access to networking events
Partnerships
Working alongside Liz Yoxall from Sheffield Council Careers, Mercia School will host a meaningful encounters network lunch. Here, a range of guest speakers will visit the school to discuss and share their career experiences. Alongside this, we have Enterprise Advisor Kerry Hyde, Graduate Careers Specialist, who will work closely with the school, advising and supporting our careers programme. Our partnership with the Sheffield University Impact Scheme will continue throughout the year and we hope to host and develop further partnerships as we continue. Our Enrichment programme also links pupils to a host of career and outside speaker opportunities.
Key Dates Linked to Careers Opportunities
Date

Events

September

Launch of Mercia Promise

Careers and Aspirations week

October

Visiting Guest Speaker

Dr Zoe Laughlin Women in STEM talk

Launch of Impact Project

November

Black History Week- Focus on tackling inequality through opportunity and aspiration

December

Charity Week- pupils select and support a local charity

January

Higher Aspirations Week- Focus on Russell Group Universities

Guest Speakers- Her Honour Judge Rachael Harrison and Judge David Dixon

Networking careers lunch

Careers Week- Focus on career knowledge

February

March

National Careers Week

Employability theme of the week

Science Week- MANTRA science bus visit

Enterprise Week

April

May

June

July
How to be Involved
Parents: Ensure you are aware of your child's Mercia Promise and support and encourage this. If you have any connections that may be helpful to the school, especially guest speakers, please get in touch.
Employers: If you want to host an event at our school, please contact us to arrange. We are very interested in guest speakers and improving our pupils' knowledge of specialised careers.
Post 16/Further/ Higher Education: We would be happy to host visiting speakers and events. Please contact us if you wish to speak with our pupils.
Volunteers: If you would like to offer some time or expertise with our pupils, please contact us. We are always looking to broaden our enrichment offers for pupils and are keen to develop partnerships with people who support the aims and ambitions of the school.
Email: enquiries@merciaschool.com